April 10, 2020 / Uncategorized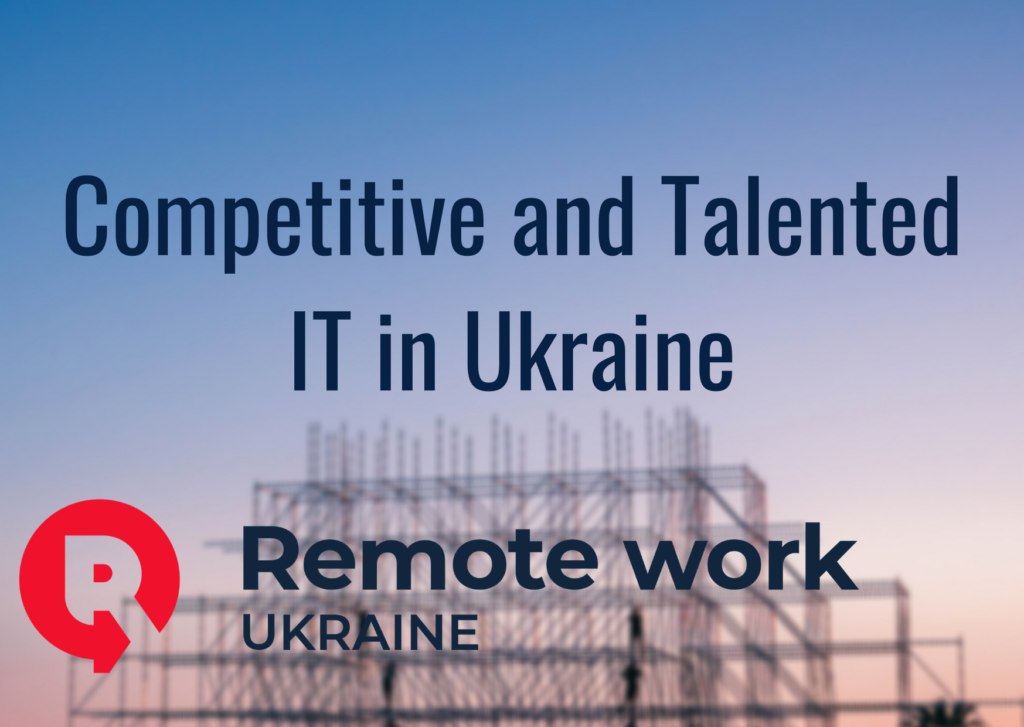 Currently IT industry in Ukraine comes up to 200,000 developers who work for both fast-evolving start-ups and big companies. Curious fact: the number of IT workers has been doubling every four years due to supportive environment in the country. There are a few main reasons why this is happening now:
Minimum salary in Ukraine was set around 370 USD during the past year, while the average salary of IT worker (depending on the title) is often 7 times higher! This is a big financial motivation for Ukrainian youth to choose IT-connected professions in universities.
Partly as a consequence of the first aspect, being an IT specialist in Ukraine is quite prestigious. Many people associate working in IT with business trips, international experience exchange, better career opportunities and so on.
Historically Ukraine offers a good technical education: almost all of the Ukrainian universities have engineering faculties with advanced STE programs.
The work in this field is the most secure from different financial risks. In addition to that, taxes and the pressure of controlling authorities on this area are relatively small.
This proves that Ukraine is not only now developing its IT field, but also setting even bigger goals for higher progress in the nearest future. Our specialists have been successfully working with big international companies like Cisco, IBM, Atlassian, Travelport, OpenText, Fluke Corporation and many others. Usually such companies start with handing a project over to a talented outsource team in Ukraine, after which they often become loyal customers for years. British Lebara is a good example of such partnership, as they started with 5 members of their N-iX team that now has grown to be a hundred software engineers.
If we look at the ratings, Ukraine takes 17th place in top-20 of AT Kearney Services; many of start-ups and giants of Ukrainian IT field are included in lists like Software 500, 5000 and others. It's definitely one of the reasons why foreign investors were bringing to Ukraine more than a 1 billon USD each starting on year 2014; this sum almost doubled in 2018 and continues to grow.
So what do Ukrainian IT specialists have to offer? Why are they becoming such a competitive force in IT world? Let's take a closer look.
According to HackerRank, Ukraine takes 11th place with 88.7 points out of 100 among 50 countries with the best software developers in the world. It also takes 6th place in the TopCoder list of the best developers.
Ukrainian professionals master a wide range of APLs, technologies and instruments. They not only have practical knowledge of these instruments but also understand exactly how to use them in different spheres.
IT workers are trying to follow the world tendencies on software development. DOU survey shows, that now Java language is the most highly-demanded, and subsequently in Ukraine it is currently the most popular APL. After Java, Ukrainian developers also use JavaScript, C#, PHP and Python. In the past 2 years there was a tendency to start using a new language – JVM, so maybe this APL soon will be taking the place of Java as the most popular language among the specialists.
Usually the developers know more than one language. As additional languages they use JavaScript, Unix Shell, Python, Java, SQL (PL-SQL and T-SQL) and TypeScript.
Both outsource and on-site IT companies are growing, and DOU as the most popular IT platform reports that the number of openings is constantly increasing: in 2019 the number of new IT positions grew by 38%. Ukrainian professionals continue to attract more and more companies who have come to appreciate their skills and high-quality work. Some of the big companies even decided to open their offices in big cities to work with talented professionals directly; among research and development centers that opened their offices in Kiyv we see Samsung, Huawei, Ericsson, NetCracker and many others.
Still not convinced Ukrainian IT specialists deserve your attention? Here are some of their projects we bet you didn't know were Ukrainian.
Paymentwall
Paymentwall Inc. is a global payments platform which services businesses in the SaaS, travel, and E-Commerce industries across 200 countries and territories. Paymentwall is best known for its wide range of 150 local payment options, which helps companies of all sizes enter into hard-to-reach markets. Honor Gunday (American) and Vladimir Kovalyov (Ukrainian) started Paymentwall in April 2010 to help game companies on Facebook monetize their global traffic. In 2011 the company became partners with Alipay, then in 2014 launched a payment system for Smart TVs, and finally in 2018 has spun out Terminal3 as global payment platform for gaming companies.
Grammarly
Grammarly is a Ukrainian technology company. It's a service that develops a digital writing tool using artificial intelligence and natural language processing. Through machine learning and deep learning algorithms it offers grammar checking, spell checking, and plagiarism detection services along with suggestions about writing clarity, concision, vocabulary, delivery style, and tone. The software was first released in July 2009 by Alex Shevchenko, Max Lytvyn, and Dmytro Lider. Now the service has headquarters in San Francisco and offices in Kyiv, New York City, and Vancouver.
Jooble
Jooble is a job search engine that aggregates and displays job ads from thousands of job boards, corporate, recruiter pages and newspapers. Jooble is represented in 71 countries and available in 24 languages. The company is based in Kyiv, Ukraine. It started as a $100,000 project in 2006 and became profitable within only 6 months. In December 2019 the web-site was second most popular job-searching platform with 90 million visits per month and a daily audience of more than 2 million visitors.
Petcube
Petcube is a connected technology startup that designs and develops hardware and software products for pets. The company was founded in 2012 in Kyiv, Ukraine by Alex Neskin, Yaroslav Azhnyuk, and Andrey Klen. Petcube launched its first Kickstarter campaign in 2013 and collected $250k, the most of any crowdfunded pet product at the time. The main idea of the service is to fight pets' separation anxiety and help training. Petcube's products are connected by wi-fi and controlled via owner's mobile device. Today the company's products are available in over 18 countries and are sold in over 5,000 retail locations. In 2019 the company made an announcement that now Alexa is integrated into their devices.
In conclusion: if you're looking for talented and hard-working IT professionals, contact Ukrainian companies. Luckily today Ukraine offers a considerable number of such companies, and you will have a chance to find a team who shares your view on the idea or offers the best solution. They will definitely perform a high-quality work on your project and may even help you see it from a different perspective!