April 8, 2020 / Uncategorized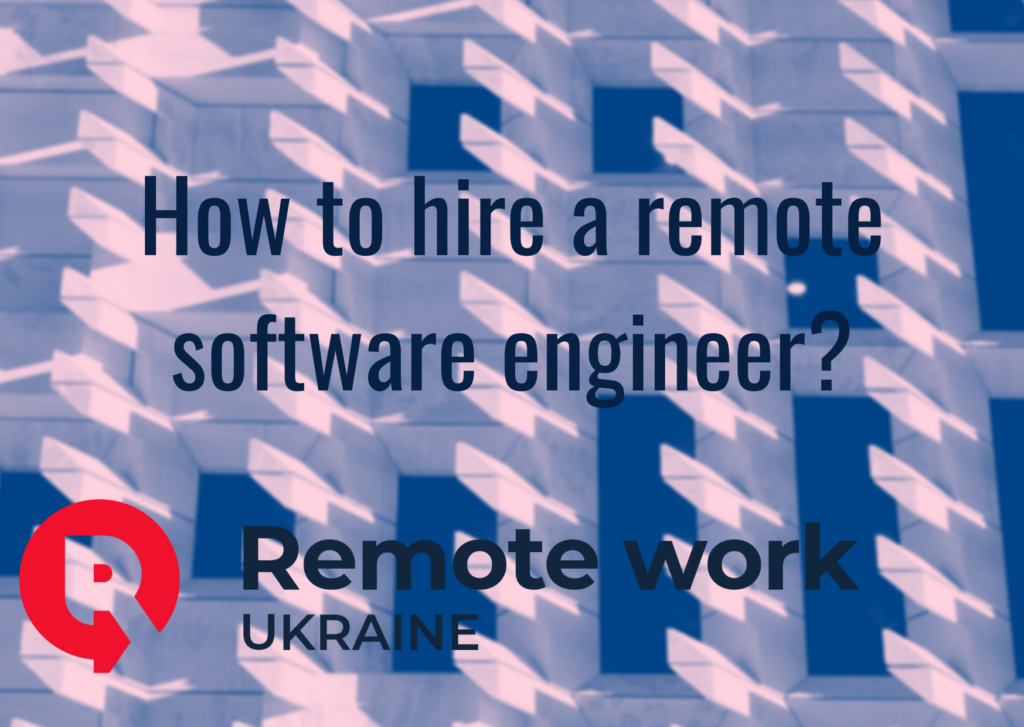 Good engineers are rare. That's why it's so hard to find them no matter how many websites for freelance workers you examine. Developers with Google or Microsoft background don't usually just sit and wait for the next offer to come around; they are almost always hunted for the new position before they quit the previous one. On the other hand, nobody says a startup or a small business can afford a salary of such an experienced software engineer. And it's one of the reasons to start looking for a remote worker. It will definitely lower the costs plus find you a creative team member for whom work-life balance is important.
Yet where do you start if you yourself are not a tech person? How do you understand the smiley candidate in front of you a prospective engineer and a good fit for your remote position?
We have a few main tips for you:
Understand the position you are hiring for
Make friends with good software developers
Craft your job post carefully as if it was a sales proposal
Let the other companies have the candidates only interested in pay rate
Provide value and opportunity
Make friends with job boards
Do the test drive
Remember about the ideal qualities of a remote developer
Choose between management or self-screening
Let's take a closer look at each point.
1. Understand the position you are hiring for
Never use a generic job post for your position, it will not bring the right candidates to you. First of all, try to imagine what will their future work be like. Maybe you can't imagine all the details right now, but you will need to understand the potential inputs and outputs. It will help you both write a good job post and see the right features in the applicants when you proceed to the interview part.
2. Make friends with good software developers
Of course, if you're not an engineer yourself you'll probably get lost in all the technical details you need for hiring a suitable developer. So your task #1 is to find a person who won't. They will help you with the questions you need for the interview, with the specific answers to look for and with the test part. Those guys can be real lifesavers.
3. Craft your job post carefully as if it was a sales proposal
Assuming that hiring, in general, is not easy, hiring remotely gets even more difficult. Remote developers don't like the word of mouth local reputation – so it's crucial to create a selling job post. You will be fishing in the sea with thousands of other fishermen right beside you, looking for the same catch. The most important thing is to remember about logic: yes, you are trying to find the best possible people, but that also means you need to create a meaningful to-the-point post. Again, you can ask your developer friend to read it and tell you whether it looks attractive enough.
4. Let the other companies have the candidates only interested in pay rate
When you know the quality depends on money, you can make a mistake of chasing some specialist and trying to compete with a bigger company on the salary part. The danger here is to hire an employee who is interested only in money; you never know when to expect them leaving you for a better offer.
5. Provide value and opportunity
This is what actually can keep you away from making that mistake. You need to find somebody who is motivated by things bigger than salary. You might be surprised that even small companies actually have a game-changer they can use in headhunting. Every small business has a lower level of hierarchy which means all ideas will come to life much faster. Plus, every single idea will have a greater impact on the company, which means members of your team can actually feel like changing the world with what they do. Needless to say, working remotely also gives more freedom for enjoying their time on and off work – that means less stress and more opportunity for creativity.
6. Make friends with job boards
As we said, you most likely will not hear about a good remote developer (unless your developer friend also works remotely and has friends considering to change a job), so the key place for the hunt will be online services. Platforms like TopTal, Upwork, YouTeam, Pilot can offer candidates who went through the screening process and have good recommendations. You can also look into some less picky and demanding services like Freelancer, especially if you have a limited budget. Remember: when you are looking for a remote worker, your search area is wider than New York or the Silicon Valley, you are diving into the global talent pool.
7. Do the test drive
This is when you will need someone who can actually create a test for your developers and also check the results. Remember: this is an essential part of any hiring process for a tech specialist. "Fake it until you make it" is the ultimate motto for most of the candidates, and at this point you make the masks fall off.
8. Remember about the ideal qualities of a remote developer
There are definitely some qualities you'll be looking for in your future perfect engineer, we have just 2 main tips on them: the ability to solve problems and self-motivation. The first one seems very obvious, however, it's difficult to overestimate. Get your applicants to talk to you about the time when they had to analyze data and make a decision based on that. Get to know what was the hardest part for them and if they felt comfortable in that situation. Do a role-play and ask the candidates to explain how they would handle some situations. Usually, this gives you a better view of your potential employees than an average interview.
Self-motivation is incredibly important for remote workers. It's good to know that every part of your team is motivated to work for your company, but in the case of the remote hire, self-motivation determines the quality of their work and the lifetime of the employee in your company. Ask them about their offline adventures and passions. A person motivated in other spheres of life is more likely to be motivated at work. On top of that, you'll know they spend some quality time off the clock which will give them the energy to keep going with the projects.
9. Choose between management or self-screening
The last but not least. You probably need to consider this aspect before the interview, or even before starting the hunting process. If you're going for a tech team, it's obvious you'll need a manager. And there you get a whole new part of your adventure where you look for a manager inside your company or inside the dedicated team – supposing you decided to hire a whole team who's already had projects together… and many more chapters unwrap in this story. Let us think for now you're hiring just one developer. What are you to do in such a case? You'll still need to control their work, so basically you can either decide to give them to a manager you already have in your company or ask the newcomer to control their work on their own. They will need to be able to track their time and assigned tasks, make reports and be ready to manage their working schedule. We recommend asking your applicants during the interview whether they had such an experience before and if they're ready to do this now.
No matter how big your projects are, the process of finding a remote engineer can be overwhelming. So we congratulate you on finishing it and opening the bottle of champagne over the signed job offer! Here is just one more friendly reminder: you have to keep in touch with your new employee even more carefully than with the on-site ones. They will need your help in understanding what you expect of their work, and in moving towards the goals step by step.