April 6, 2020 / Uncategorized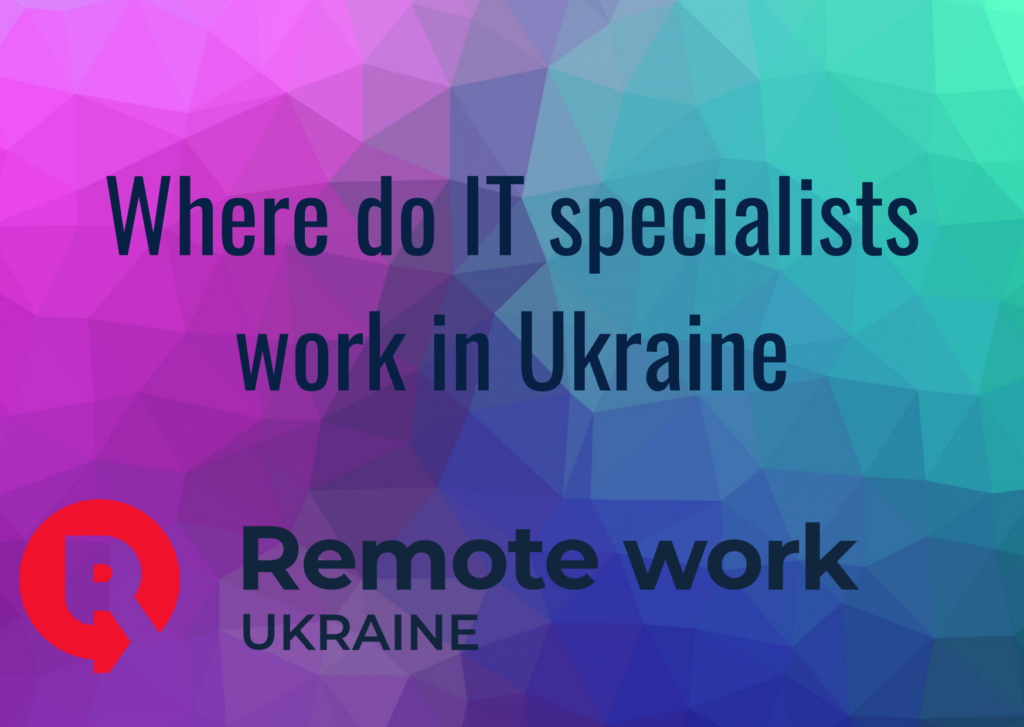 With the aid of IT specialists, Ukraine gradually becomes a technologically developed country. Today up to 110,000 of the field's professionals work for big and small companies, most of which export their services to well-known international businesses.
So what does it mean – to be a Ukrainian IT worker? Who is this person, what do they do for the company and what companies do they choose?
The age of this person is most likely 21-30 years (63% of specialists belong to this age group), and it's most likely a man (only 24% of people who choose this field are women). A Ukrainian IT specialist will most likely be a developer (53%); it's very unlikely to meet an IT team manager or a person of any other non-technical position (only 6% in this field work in HR, Sales, etc.).
If we look at the job titles, 36% are Middle specialists, 27% – Junior, 19% are Seniors and 11% go to Lead IT specialists. Most of them are also quite experienced, 56% having worked for 2-4 companies before, 11% – for 5-7 or even more employers, the remaining 28% of respondents stated that they currently work at their first job.
Surprisingly most IT specialists work at the office (80%), and only 14% work remotely (at home or wherever they find a good place for it). At the same time, a big part of the companies they work for are outsource (45%) or outstaff (9%); 28% of specialists work for product companies, 3% are in start-ups and 3% are freelancers. These people are usually also very enthusiastic about the work they do, as part of them have (17%) or plan to open (28%) their own IT project.
Ukrainian IT specialists are well-educated in their field (56% have higher technical education, 13% are currently students, 28% have higher non-technical education) and are good with English: 34% of respondents have Intermediate level of English, 34% are at the Upper-Intermediate level, 13% have Advanced knowledge of the language. In addition to that, 67% regularly read professional literature, 57% are in online courses, 34% visit offline IT events.
According to the survey, the country's IT workers are also very happy about their job and salary; only 11% replied that they're not very interested in what they do now, and 10% don't like the amount of money they get for their work.
So what companies do these happy people work for? Here's the top-10 of those exporting their code abroad and making Ukraine recognized for the quality of its IT specialists.
EPAM
Product development services leading company for financial, tourism, high technologies, and healthcare industries. It's the first IT company from Eastern Europe to have established its headquarters in the US and to be successful in the western market. EPAM is also in Fortune 500 and is an acknowledged leader of IT companies in Ukraine.
SOFTSERVE
SOFTSERVE works with cloud space technologies, security, BigData. The company was the top employer during 2010-2015, and its customers are such companies as General Electric, Panasonic, BMC Software, Unilever, AB InBev, Nestle, Cisco, IBM, and Logitech.
GLOBALLOGIC
The company deals with digital media, healthcare industry, finances, retail. It's a full-cycle development company for different businesses. One of the company's most famous creations is software for defibrillators, including those at The International Space Station.
CIKLUM
Ciklum is a company with Danish origins. It has a unique business model, as the developers communicate with international customers directly. It is one of 100 best outsource companies in the International Association of Outsourcing Professionals. Ciklum participates in developing Data Science and has established Data Minds at one of the Ukrainian universities to encourage young people to choose IT; it also gives scholarships to the best students.
ELEKS
The company proved to be a reliable partner over the past 25 years. It worked with Microsoft, IBM and NVIDIA. ELEKS is one of the companies that work on creating action scenes in Hollywood films. It also works with finances, analyses, mobile and digital technologies, data processing.
INFOPULSE
Infopulse deals with car industry, banking and financial system, e-commerce and power engineering projects. It's the biggest company in Ukraine that provides services during the whole lifetime of IT systems and telecom infrastructure support. INFOPULSE created a special "profile of a Lviv citizen" for a municipal project, and a software for video surveillance systems for Bosch Security Systems.
ASTOUND COMMERCE.
The company specializes in e-commerce solutions for corporate clients all over the world. It provides the service of planning, creating a web-design, developing, supporting the product and doing the operational analytics. Adidas, Versace, Jimmy Choo, Hugo Boss, Tommy Hilfinger, L'oreal and many others are the customers of Astound Commerce.
SIGMA SOFTWARE
Sigma Software is a part of Sweden Sigma Group. Portfolio of this company is full of successful projects, such as developing a cost management system for Scandinavian airlines, developing solutions on usage of Big Data and the Internet of Things for global telecommunicating companies.
SIMCORP
This Danish company started performing in 1971 and became the provider of financial solutions for the biggest companies right away. In 2005 its office was opened in Ukraine. It continues to develop software used by the world's leading investment companies.
LUXOFT
Luxoft has its offices in more than 16 countries, and has opened its agencies in 3 Ukrainian cities. Luxoft specialists develop software for such companies as IBM, Ford, Boeing, Deutsche Bank, UBS. The CEO of Ukrainian office says that it's easier to find a good IT specialist in Ukraine as people here have a good basic education, which allows them to be rivals to such outsource monsters as India.
Other companies agree: SoftServe's management believes, that innovation can only be driven by creative, smart and well-educated people, and Ukraine is one of the European biggest providers of such talented professionals.
Soon enough Ukrainian IT can step up from #3 in the list of fields exporting its products or services, to #2, leaving metallurgical industry of the country far behind.